Healthy North Coast's Innovate Reconciliation Action Plan Lead and Dunghutti Elder, Uncle David Kelly says that, for him, NAIDOC Week is about communities coming together, sharing their cultures, and celebrating the many contributions that Aboriginal people have made and continue to make.
Mr Kelly was born in Coffs Harbour and spent much of his childhood at Burnt Bridge Mission near Kempsey, before moving to Sydney after leaving school. While he enjoyed his time in the city, he felt something was missing in his life.
'I went back home to Kempsey and started mixing with uncles and aunties and cousins and friends,' he said. 'I'd been missing my Aboriginality – I didn't have to find it anymore because it was there, back home. I started to absorb it and really enjoyed the time I spent there.'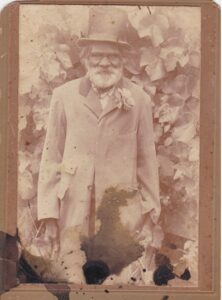 He traces his Aboriginal lineage as far back as his Great-Great-Great Grandfather, Jacky Springheel (pictured right).
Jacky Springheel lived in the Barrington area around Gloucester in the 1800s and may have been born in the late 1700s, before the arrival of white settlers. Jacky was head of the clan, or 'king of the nation' and many of his descendants remain in the area.
'It's like I'm home when I go to Gloucester,' Mr Kelly said.
He said this year's NAIDOC Week theme 'For Our Elders' resonated due to the need for young Indigenous people to have strong role models.
'When I grew up, everybody looked after everybody else and we all had respect when we were told to do things,' Mr Kelly said.
'These days once you turn 50, you're an 'Elder'. I don't fully agree with that. You need to contribute to where you're living. You need to try to make your community better and keep your community together. Our young people are all on their journey and they need positive role models.
'I see my job as passing the knowledge on and making sure the children know about their culture; being an advocate for my people.
'The whole principle of being an Elder has expanded; we're trying to make life better for everybody and not just our mob. In the old days you weren't called an Elder – it was called being put through the rules, and it was the rules that gave you direction.'
He is quietly confident about the future and says the momentum from the 2000 'People's Walk for Reconciliation' over Sydney Harbour Bridge continues to this day.
'I've seen enormous changes take place in my lifetime,' Mr Kelly said. 'Young people now have a lot more support that we had. I think the leadership of the next generation is going to be better than it is now, but they still have some big boots to fill.'
'The times are changing, and they need to continue changing.'
Learn more about NAIDOC Week 2023 here. 
Read Healthy North Coast's Innovate Reconciliation Action Plan here 
Healthy North Coast operates across the Mid and North Coast regions of NSW, and includes the nations Githabul, Bundjalung, Yaegl, Gumbayngirr, Dunghutti and Birpai. We acknowledge the Traditional Custodians of the lands across our region, and pay our respect to Elders past, present and on their journey. We recognise these lands were never ceded and acknowledge the continuation of culture and connection to the land, sky and sea. We acknowledge Aboriginal and Torres Strait Islander Peoples as the Land's first peoples and honour the rich diversity of the oldest living cultures.