A new project for the North Coast
Healthy North Coast is embarking on a commissioning project in 2021–22 to improve our region's access to primary care for current and future generations.
Data analysis has provided increasing insight into the complexities of demand and access to primary care across the Mid North Coast and Northern NSW regions. Low urgency presentations to emergency departments by our 15–24-year-olds are amongst the highest in the country, while people aged 65 and over account for 43% of GP presentations (70% to people 45 and older). Aboriginal people are worst affected and low urgency presentations for young people are highest in in our inland regions of Kempsey, Clarence and Casino.
This project is an exciting opportunity to drive system change and invest in an innovative approach to achieve improved health outcomes and health equity across our region.
The North Coast Health System Demand narrative has been updated. See the latest trends in ED and GP usage.
Healthy North Coast has commissioned an innovative new primary care solution that is currently being developed.
Keep up-to-date with the Primary Care Access project and how we are working together to improve health on the North Coast.
Social Research Report
May 2022
Hear what young people had to say to our social researchers about their experience accessing and using primary care.
Health System Demand in the North Coast
Update November 2021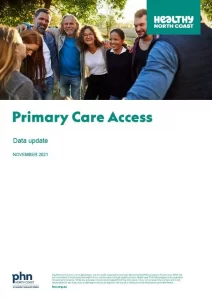 Since publishing the Health System Demand in the North Coast report in May 2021 (see below), Healthy North Coast has been progressing its Primary Care Access project.
The codesign process to develop sustainable and innovative solutions to better manage health system demand across the North Coast commences in November 2021.
The Health System Demand in the North Coast Update Report November 2021 has been compiled to support the codesign and commissioning process. It includes more recent data now publicly available regarding low-urgency emergency department (ED) presentations and general practice (GP) service use. Low-urgency ED presentations related information focuses on:
low urgency ED presentations (Triage 4 & 5) overview
COVID-19 effect
age of patients.
General practice data updates relate to GP service use – total numbers and by age group and sex.
Health System Demand in the North Coast


May 2021
Our key document analyses health system utilisation and shows concerning trends across the Healthy North Coast region. You can read the full analysis on Health System Demand on the North Coast or take in the two-page overview.
See individual data reports below (2–3 pages).
Whole of region reports
Our needs assessment fact sheets on younger people and Aboriginal people also provide important information on the health of young people and Aboriginal people in our region.
Commissioning new primary care services
Commissioned service overview (October 2022)
Healthy North Coast has commissioned a new service to be delivered by Amplar Health (previously Medibank Health Solutions). The new service, North Coast Health Connect, will provide 24/7 registered nurse triage and service navigation for North Coast consumers.
North Coast Health Connect will commence rollout in December 2022, with full region coverage by March 2023. Further information will be available on a dedicated web page in the near future. In the interim, a brief overview can be found here. Please also see below for opportunities for general practice to participate.
Procurement announcements (June 2022)
Healthy North Coast is pleased to have announced the awarding of two new contracts to Medibank Health Solutions and The George Institute for Global Health — click here to read the full announcement.
Service solutions co-design (November 2021 – February 2022)
In late 2021 and early 2022, consumers, experts, service providers and local stakeholders participated in a range of co-design workshops to explore new and innovative approaches to accessing primary care.
Workshop facilitators Social Ventures Australia synthesised the co-design sessions:
Commissioning background (October 2021)
Commissioning is a cycle of development and implementation based on needs. It includes co-design, procurement, monitoring and evaluation. Through commissioning, the partnership with providers is focused more on health need, collaborative design and opportunities for innovation.
Commissioning in the Primary Care Access project is informed by Levesque, Harris and Russell's research on Patient-centred access to health care: conceptualising access at the interface of health systems and populations.
The procurement process commenced in October 2021 with a request for expressions of interest to participate in co-design. Service providers were then invited to submit proposals that met the requirements of the co-design outcomes. Healthy North Coast publishes all requests for tenders, proposals or expressions of interest on the TenderLink portal. All submissions are formally evaluated alongside other tendered submissions, including analysis by an independent health economist.
Primary Care Access Reference Group
Details about the Primary Care Access Implementation and Evaluation Reference Group coming soon.